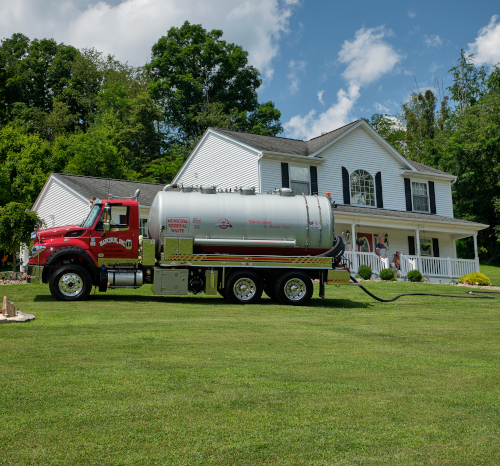 Imagine being unable to flush your toilets, having wastewater back up into your basement, or your next family picnic getting ruined because your yard is flooded with sewage. Don't let this happen to you! The best way to prevent septic problems like these is through routine pumping of your septic or holding tank. You can rely on Hapchuk, Inc for both regularly scheduled pumping and emergency pumping.
Every time you flush a toilet or wash the dishes, wastewater leaves your home and flows into your septic tank. Then, your septic tank acts as a filter that traps solids while water passes through to the drain field. Over time, these solids accumulate in your septic tank, and the only way to remove them is to have your tank pumped out.
Waiting too long to have your septic tank emptied can cause expensive and sometimes irreversible damage to your home and septic system. Over-accumulated solids will begin to escape from your septic tank and flow directly into the drain field, destroying its ability to absorb and treat your wastewater. To prevent damage like this from occurring, the Pennsylvania Septage Management Association (PSMA), in combination with Penn State University, recommends that septic tanks are pumped out at least every 2 to 3 years. That's where Hapchuk, Inc comes in. Our experts are equipped with the tools and the knowledge to thoroughly pump out your septic or holding tank.
Don't wait until sewage is backing up into your house to call us. With Hapchuk, Inc's pumping maintenance schedule, our experts will evaluate your septic system to determine how frequently your tank needs cleaned. Then, we will send you a friendly reminder when your tank is due for pumping, so you never forget again! Remember, routine septic and holding tank pumping is a vital component of preventative maintenance that will save you money and hassle by ensuring the longevity and proper operation of your septic system.

CCLS Septic System Bacterial Enzyme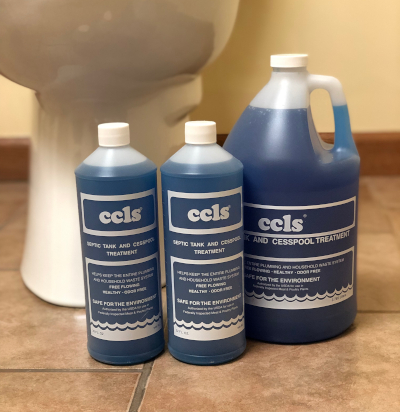 Preventative maintenance of a septic system is not limited to routine pumping of the septic tank. It is also important to maintain a healthy level of good bacteria throughout your system by using a septic bacteria additive as part of your maintenance routine. While there is no replacement for having your septic tank pumped regularly, CCLS Bacterial Enzyme additive helps break down solids that build up in your septic tank and prevents those solids from clogging your drain field.
Modern cleaning products are highly effective at killing germs and bacteria in our homes. However, many of these cleaning products, such as bleach, disinfectants, and toilet bowl cleaner, eventually make their way down the drain and into your septic tank where they kill the bacteria that your septic system needs to operate properly. The good bacteria in a septic system break down solids and reduce the amount of pollutants. Without these bacteria, solids will build up in the pores of your drain field and clog your septic system. CCLS Bacterial Enzyme is formulated to keep your septic system healthy by simply replacing the good bacteria that cleaning products kill.
CCLS is non-hazardous, non-toxic, and very simply to use. First, a Hapchuk, Inc technician will apply a 1-quart treatment of CCLS to your septic tank immediately after pumping. This reintroduces the good bacteria that was removed from the septic tank during cleaning. After that, you simply flush one cup of CCLS down the toilet once a month to maintain a healthy level of bacteria in your septic system until your next pumping. Get the most out of your septic system by asking Hapchuk, Inc to add CCLS Bacterial Enzyme to your next septic service!
I just had my septic tank cleaned out by Hapchuk. Montana, in particular, was the person who serviced it, and he was fabulous. Everyone was courteous, and it was a wonderful experience.
Heather H. | West Alexander, PA