Last week, ten Hapchuk, Inc employees attended the 2020 Pennsylvania Decentralized Wastewater Conference and Trade Show in Harrisburg, Pennsylvania. For several of our employees, it was their first time attending the conference. Others have been in attendance for many years. With our commitment to employee development and ongoing education, we are proud to report that the conference was an enlightening experience for all involved!
The statewide event is hosted each year by the Pennsylvania Septage Management Association (PSMA). It started with a PSMA Board of Directors' Dinner Meeting on Sunday evening where board members, including our President, Dave Hapchuk, discussed the state of the septage industry in Pennsylvania. Over the next two days at the trade show, we kept busy conversing with exhibitors, learning from industry experts, and networking with colleagues.
Going into the conference, it was our goal to focus on two areas of learning:
safety and septic system technology.


Safety

On Monday, five of our employees participated in an all-day Vacuum Truck Training. The course covered a wide range of topics including how to properly load and unload a vacuum truck, develop spill and emergency response plans, and follow government regulations. This was an excellent opportunity for new employees to build their skillsets and for experienced employees to review best practices. Upon completion of the course and passing a written exam, these employees will receive National Vacuum Truck Technician Training certifications.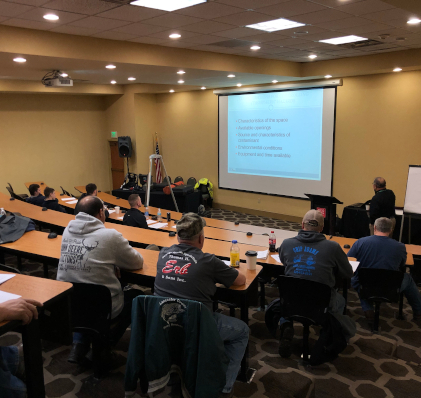 The following day, we took a Confined Space Training Course. The training covered how to assess hazards, monitor and ventilate the atmosphere, and perform a confined space rescue. In the event that a job requires us to enter a confined space, it is important that our employees are thoroughly trained in roles as entrant, attendant, and entry supervisor.
Some hazards are unavoidable when dealing with commercial trucks, wastewater, and confined spaces. This is why it is so important that our employees are properly trained and educated. Safety comes first!
Septic System Technology
In addition to safety training, our septic system inspectors participated in several continuing education courses to stay up to date on the latest in septic system technology and inspection practices. They kicked off the show by participating in a Septic Detective session to put their inspector skills to the test. Attendees worked together to assess real problems that septic systems might have, identify the causes, and develop solutions. This was a great exercise to prepare our inspectors for more technical classes on topics such as Nitrogen Reduction, Sub-Surface Drip Dispersal, and Flow Equalization.
Our inspectors were most excited to attend a seminar on drip dispersal septic systems, taught by Dr. John Buchanan from the University of Tennessee. These "drip systems" are one of the most advanced types of septic systems available today. A drip system ensures that the whole drain field receives uniform doses of liquid and can maintain aerobic conditions within the soil. Therefore, a drip system can be an effective solution on a property with limited space or shallow soil. While our experts are already experienced in the installation, maintenance, and inspection of drip systems, they took this opportunity to sharpen their technical skills and increase their understanding of government regulations regarding advanced septic systems.
Attending events like the Pennsylvania Decentralized Wastewater Conference and Trade Show is vital to develop as individuals and as a company. The knowledge we gained by attending this year's show contributes to Hapchuk, Inc's ongoing commitment to safety and excellence in septic system services.